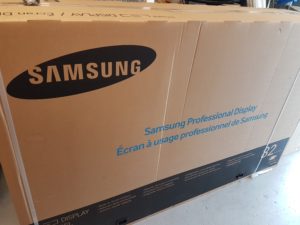 One of our major blue chip clients has asked us to install a new display screen into a meeting room, then link up a presentation solution – the conference table is solid and has no port holes by the way – that works across mobile devices and cross platform Operating Systems, did we mention that this was also in Paris?
We are accredited Barco installers and can solve this issue. Typically Apple products require the use of Apple TV to stream media content, unlike Android devices which connect to smart screens via Wi-Fi or if the screens are not Wi-Fi enabled with Chromecast or similar devices. Having used this method previously, presentations were working of a fashion, but we would find that they would drop out every now and then and would come across rather clumsy.
Barco offers a seamless way of connecting devices to screens which can stream content smoothly and without interruption delivering an enterprise class solution to the issue of multiple devices. As for installing the solution to Paris, well that's just another day for us at Microtech.