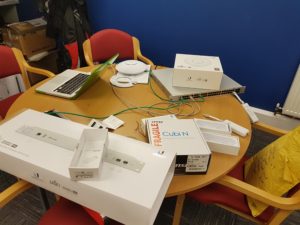 One of our long standing clients has had a requirement to improve the quality of the WiFi coverage across the whole embassy, it will need to deliver services to both residential staff and public access with individual client access points so no cross over is possible and security is kept at the highest level.
Microtech have of course delivered another solution and designed a system that can deliver 4 separate SSID to maintain the privacy of the networks.
We have been to site and conducted a wireless survey, which was a pleasure from the usual traditional London buildings with their thick walls and listed building status, as this is laid out mostly to a modern office with an open plan layout, as well as glass fronted facade, which we will minimise any external output. The solution is being installed on the first and third floors, then to the residential area which is spread over two floors at the top of the building.
From the survey information we are able to pre-configure most of the equipment before everything gets sent to site to be installed, in doing so we can be assured that everything is in working order, then when we are on site the existing equipment will be removed and replaced, one of our engineers will finalise the configuration and another will install new cabling for the new Access Points as well as removal of the old ones, then the client can be up and running with minimal disruption. Here after we're able to remotely monitor and maintain the network to ensure that everything is running smoothly and without fault.
All that's really left to do is find those special chocolates we've been hearing so much about!
For more information on how we can help you with your wireless networking requirements get in contact with us via http://microtech-ims.com/contact-us/