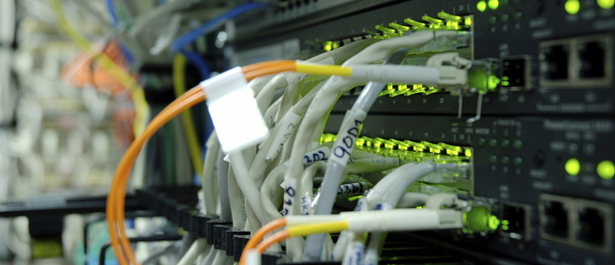 SERVICES
MULTI-MODE FIBRE
SINGLE-MODE FIBRE
DIRECT TERMINATION
FUSION SPLICING
INTERNAL & EXTERNAL WORKS
ARMOURED SOLUTIONS
INFRASTRUCTURE AUDITS
PRE-TERMINATED SOLUTIONS
BLOWN FIBRE
FIBRE OPTIC CABLING INSTALLATION AND TESTING SERVICES
Microtech Communications is a professional and accredited installer and tester of fibre optic data and voice networks. We offer a complete design, installation, testing and maintenance service for horizontal fibre optic networks, fibre optic network backbones and building to building links, offering a complete three tier solution.
We have over 11 years' experience with fibre optic networks and employ dedicated optical fibre engineers and project managers who support a wide range of commercial and public sector clients working in education, business, healthcare and manufacturing.
Fibre optic cabling is an industry leading technology that offers excellent bandwidth and scalability to organisations where data transfer speeds are integral to infrastructure needs and future development. For connectivity over 90m single-mode or multi-mode fibre optic the ideal solution to guarantee speed, reliability and future proofing. Fibre optic cabling is completely immune to EMI and RFI, making it ideal in environments susceptible to electrical and radio interference.
Microtech is an experienced fibre optic cabling contractor, working direct with the end-user or through many of the UKs most recognised electrical and mechanical contractors, fit-out companies, and consultants.
We are a brand accredited installer for HellermanTyton, Corning and Leviton (Formerly Brand-Rex) fibre optic products, which benefits customers with a 25 year manufacturer backed materials warranty in addition to Microtech's standard two year workmanship warranty. All Microtech engineers and sub-contractors are fully qualified and time served in fibre installations. All works comply with industry protocol and European installation and performance standards.
Services
Free network planning consultation
Installation services for OM2, OM3, OM4, OS1, OS2 single mode and multi-mode fibre
Blown fibre installation
Design planning and future proofing
Project planning
Fibre fault finding
Pre-terminated solutions
High density fibre solutions
Fibre terminating and testing
Network documentation
Ground works and ducting
Warranty and network maintenance services
Whether you are modifying an existing fibre optic network, or installing fibre to link buildings, our project teams and qualified engineers will ensure a solution that meets your operations needs as well as budget.
For further information on fibre optic installation services or to help specify your project, please call 0330 365 0007 or email info@microtech-ims.com.